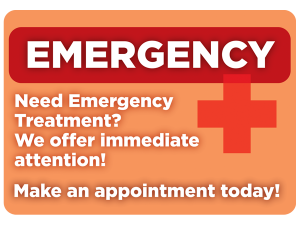 Dental needs do not always come at the most convenient times. In fact, an injury, tooth aches or other urgent dental situations can arise at anytime – day or night. That's why we offer Emergency Service that includes both same-day appointments as well as after hours and weekend care. If you have a life-threatening emergency, call 911, but if you need help with your dental needs, contact us any time.
Some common dental emergencies are abcesses, teeth that are chipped, broken or knocked loose, or severe pain. If your child is experiencing any of these and is in need of immediate attention, please call our office immediately for assistance. We will make all efforts to see your child the same day.
If your emergency is after hours please call our main number (903.892.2246) and listen carefully to the message. Emergency contact numbers are provided on our answering service.
If your child is experiencing a dental issue that can wait until the next business day, please call to make an appointment or use our contact form provided on this page.